CELLICS | SKIN HEALTH NUTRITION | Leeuwarden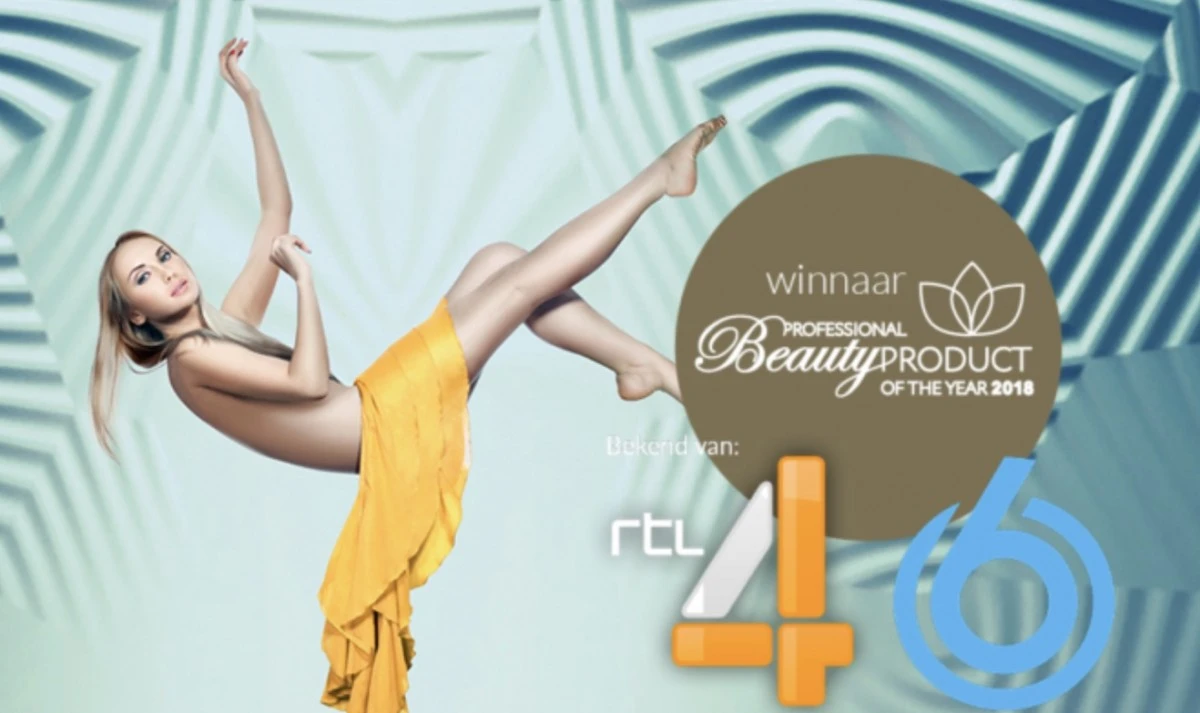 NUTRICOSMETICA
OPTIMALE HUID- EN LICHAAMSVERZORGING VAN BINNEN UIT
Een goed opgebouwde huid is belangrijk voor maximaal en blijvend resultaat op de huid. Supplementen voor cosmetische doeleinden zoals anti-aging, huidverjonging, huidverbetering en het oplossen van huidproblemen zoals eczeem en acne. Ze bevatten bouwstoffen, vitaminen, mineralen en essentiële vetten voor het beschermen, voeden en verbeteren van de huid. De supplementen bevatten naast essentiële ingrediënten voor je huid, ook essentiële ingrediënten voor je gezondheid / lichaam.
Ze ondersteunen het lichaam bij het onderhoud en de aanmaak van nieuw bindweefsel, collageen en elastine en zorgen hiermee voor de bouwstoffen voor een mooie, stralende huid en een gezond lichaam.
WILT U MAXIMAAL RESULTAAT, DAN WILT U CELLICS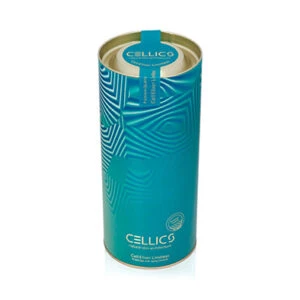 CELL ELEXIR LIMITLESS
Maar liefst 29 ingrediënten (waaronder hyaluronzuur, collageen en phytoceramides) werken aan uw mooiste huid, maar ook uw algehele welzijn en vitaliteit (Cell Elexir bevat 27 ingredienten en heeft een lagere dosering dan de Cell Elexir Limitless)
Ziet u volumeverlies of opkomende rimpels in het gezicht, op je armen, benen, etc.? Dit is het gevolg van dat we collageen verliezen wanneer we ouder worden. Naarmate we ouder worden, wordt onze natuurlijke aanmaak steeds minder.⁠ Met het Elixer Limitless bouwt u dmv het collageen niet alleen aan huidvolume en de stevigheid van uw huid, maar ook aan uw algemeen welzijn.
Collageen zit door heel uw lijf en is een belangrijke bouwstof. Inname van viscollageen speelt een interessant proces bij celgeneratie (vernieuwing) en botgenezing/gewrichten. En daar houdt het niet mee op, met maar liefst 29 hoog gedoseerde ingrediënten werk je ook aan de bescherming van het collageen dat je opbouwt (dmv antioxidanten). Ook is Vitamine C van belang voor de vorming van collageen en overige vitaminen en mineralen uit ons Elixer Limitless zijn van belang om een proces tot stand te kunnen brengen in de huid en uw lijf te ondersteunen vitaal te blijven.
Voor de huid maken we bewust gebruik van gehydrolyseerde viscollageen peptiden. Onder andere omdat het zo dichtbij het menselijk collageen komt en voor de opneembaarheid helpt het dat deze uit nog kleinere peptiden bestaat dan veel andere soorten.
Cell Elixer Limitless bevat naast collageen, hyaluronzuur. Dat alom wordt geprezen in beautyland voor zijn volume en hydratatie. De Phytoceramides uit onze Limitless ondersteunen dit nog eens extra.
Heb overigens geduld met collageen, om de voordelen te ervaren zul je tussen de twee en zes maanden moeten wachten. Met name in het geval van rimpelvermindering. In de tussentijd kunt u waarschijnlijk al wel het effect van het Hyaluron en de Phytoceramides in de spiegel zien.
Bent u 30+? Dan kunt u het Cell Elixer gebruiken om zoveel mogelijk te blijven stralen.
Bent u 50+? Dan raden we u het liefst toch ons Cell Elixer limitles aan. Omdat uw natuurlijke aanmaak op deze leeftijd echt een stuk minder is dan in toen u 30 of 40 was. De hogere doseringen uit onze Limitless kunt u dan wel gebruiken om naast de huid, uw vitaliteit ook echt volop te ondersteunen.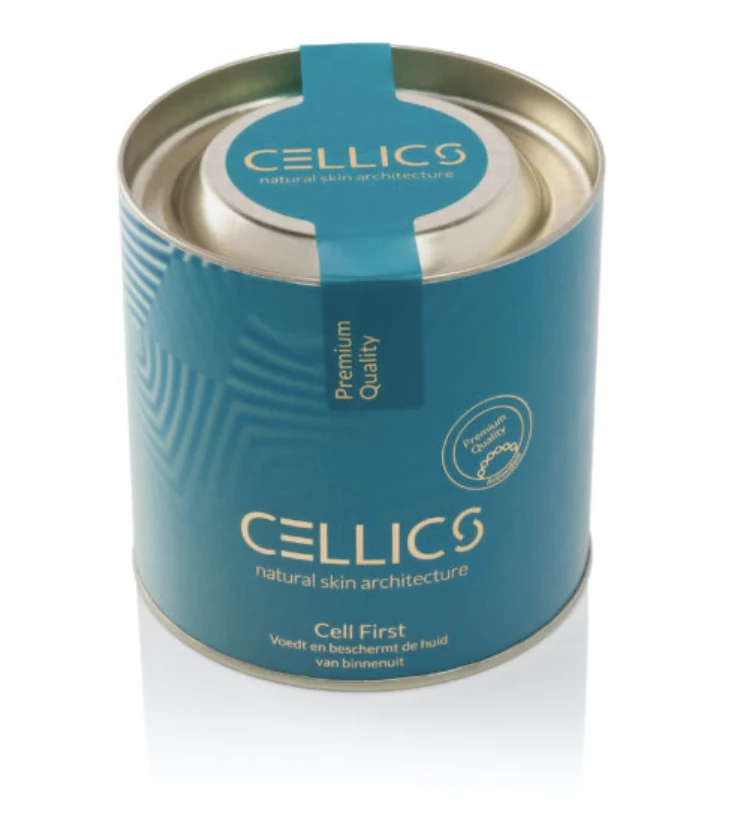 CELL FIRST
Een mix aan antioxidanten voor bescherming van zo lang mogelijk een mooie huid
Omdat we meer te maken hebben met uitlaatgassen, een verslechterd milieu, voedsel is bewerkt etc. kan iedereen wel wat extra bescherming gebruiken.⁠ Ook al heeft u al een stevige huid barrière, want we staan vaak toch niet helemaal stil bij wat we op dagelijkse basis afbreken door de genoemde invloeden. Waarom de beschermende functie van uw huid niet extra bijstaan? ⁠Om niet onnodig af te breken wat we van nature nog opbouwen en zodat u zich lekker voelt en straalt.
Zon is een van de grootste boosdoeners, daarom moest onze Cell First zonbescherming van binnenuit bieden. Koper draagt tevens bij aan een normale pigmentatie van de huid. Maar het beschermt u tegen nog veel meer. Want wist u dat zelfs een slechte nachtrust invloed kan hebben? En stress bijvoorbeeld, vreet letterlijk aan u en uw huid. Daarom voedt en beschermt Cell First van binnenuit.
Hij bevat een mix aan antioxidanten, waaronder oa Resveratrol, N-Acetyl-L-Cysteïne (NAC), koper, zink, vitamine E en C. Waarmee Cell First een bijdrage levert aan het beschermen tegen schadelijke invloeden.
Daarnaast bevat Cell First een mix aan vitaminen en mineralen. Van vitaminen en mineralen weten we dat deze belangrijk zijn om ervoor te zorgen dat het lichaam functioneert, zodat het uiteindelijk ook een proces tot stand kan brengen in de huid.
Chlorella en Spirulina ondersteunen bij de ontgifting, omdat het zelfs voor de beste huidjes heel normaal is om zo nu en dan een uitbraak van puistjes te hebben. Daar is niets mis mee. Maar krijgt u deze liever niet? Dan kan Cell First wel eens een oplossing bieden.
Wist u al dat Cell First er ook voor kinderen vanaf 12 jaar is? Om eventuele tekorten aan vitaminen en mineralen mee aan te kunnen vullen. Wel zijn we wettelijk verplicht een waarschuwing af te geven voor producten met meer dan 20 μg vitamine D per dagdosering.
Antioxidanten?
Een antioxidant helpt uw gezonde cellen om zich te weren tegen vrije radicaalschade. Vrije radicalen zijn agressieve verbindingen die bij verschillende stofwisselingsprocessen in het lichaam ontstaan, die schade aanrichten wanneer onze cellen niet goed zijn beschermd (met oa vroegtijdige veroudering of een huid met ontstekingen tot gevolg). Dit komt door bijvoorbeeld stress, slechte nachtrust, (UV) straling, slechte voeding en nog veel meer. Ook het milieu kan zijn invloed hebben.
Een antioxidanten boost is dus een combinatie van beschermers voor onze cellen die u zoveel mogelijk wilt hebben.
Wilt u werken aan volume-opbouw, een strakkere huid met minder lijntjes? of wilt u beginnen met huidverbeternede / collageen stimulerende behandelingen?
Dan raden we het Cell Elixer of Cell Elixer limitless aan.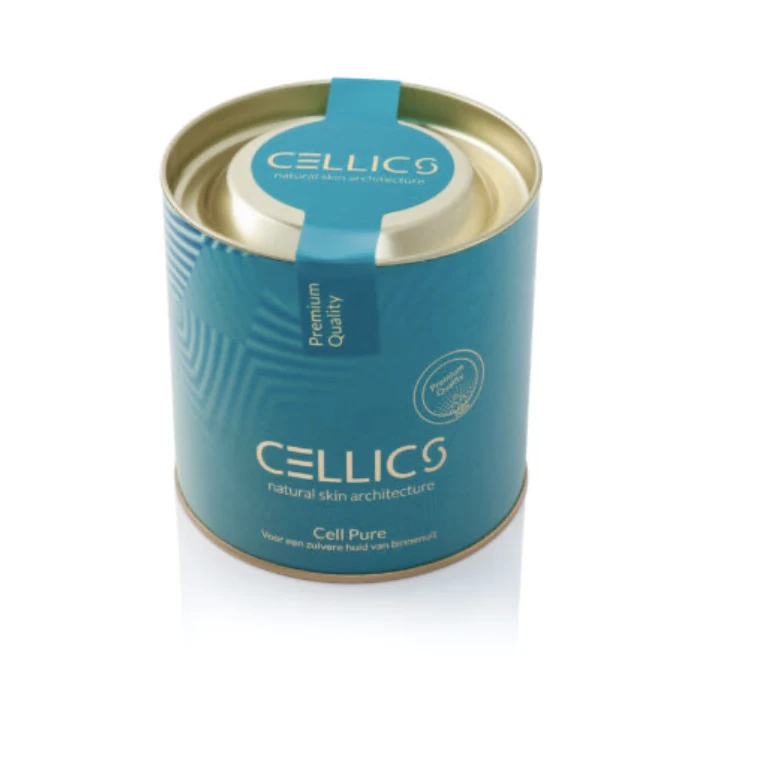 CELL PURE
Een zuivere binnenkant als mogelijke hulp bij serieuze acne, eczeem of rosacea
Omdat we leven in een giftige wereld (voedsel is bewerkt, milieu is niet meer wat het is geweest, uitlaatgassen, etc.) kunnen we wel wat hulp gebruiken bij het afvoeren van de afval- en gifstoffen. ⁠
Niet ieder lichaam kan dit goed bijbenen en dat zien we vaak terug aan de huid (in de vorm van serieuze eczeem, acne of rosacea). Veel huidproblemen ontstaan van binnenin. ⁠Cell Pure draagt bij aan zuiver van binnenuit.⁠
Heeft u gevoelige darmen? Dan raden we sowieso aan gebruik te maken van onze Cell Pure. Want wist je al dat wanneer je darmen niet op orde zijn, huidherstel niet mogelijk is?
Zuiver van binnenuit.
Cell Pure draagt bij tot de instandhouding van de normale leverfunctie, om de gezondheid van de huid te behouden. Waarbij oa plantextract mariadistel een reinigende werking voor de lever ondersteunt. Daarnaast bevat Cell Pure nog meer ingrediënten die bijdragen om de gezondheid van de huid te waarborgen.
Cell Pure bevat ook een mix aan vitaminen en mineralen. Van vitaminen en mineralen weten we dat deze belangrijk zijn om ervoor te zorgen dat het lichaam functioneert, zodat deze ook een proces tot stand kan laten komen in de huid.
Voor wie is Cell Pure?
Heeft u last van een onzuivere huid? Ervaart u ernstige acne, eczeem of bijvoorbeeld rosacea? Dit hangt waarschijnlijk samen met problemen binnenin. Waarbij Cell Pure een hulp kan zijn!
We raden aan een kijkje te laten nemen in uw huid, om dit te beoordelen.
Wist u dat voor rosacea, MSM in combinatie met sylmarin (mariadistelextract) een bewezen huidverbeterend effect heeft? Wat in onze Cell Pure te vinden is.
Heeft u alleen zo nu en dan een uitbraak van puistjes?
Denk dan niet meteen aan deze Cell Pure, maar aan de Cell First en de Cell Omega.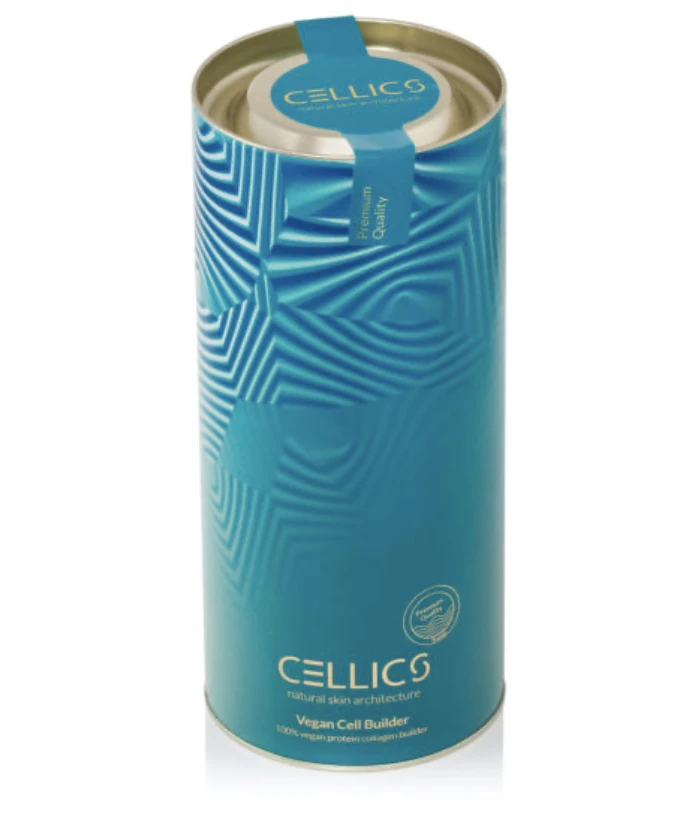 VEGAN CELL BUILDER
Ook als vegan kunt u bij ons terecht met onze 100% vegan protein collagen builder (ook glutenvrij).
Deze bevat huidspecifieke stofjes als Proline, Lysine en Glysine die een bijdrage leveren aan de collageenaanmaak en de fruits & greens die het bevat zijn super antioxidanten, die de functie hebben onze huid en onze cellen te beschermen. Zodat we niet verliezen wat we opbouwen.
Om de huid rustig te houden zijn stofjes als Chlorella en Spirulina toegevoegd. Net als MSM, die nog veel meer krachtige werkingen heeft. Ook voor uw lijf.
Tot slot bevat het in de basis plantaardige eiwitten (erwt en rijst), bronnen met een hoog aminozuurprofiel, waardoor u toch nog voldoende eiwitten binnenkrijgt als u bijvoorbeeld weinig tot geen vlees eet. Ontzettend belangrijk om uw lijf goed te laten functioneren om ook aan uw mooiste huid te werken.
Eiwitten bestaan uit verschillende bouwstoffen (aminozuren) die worden afgebroken wanneer u deze tot u neemt, waarna uw lichaam deze vervolgens weer in een andere volgorde in elkaar zet, zodat ze samen perfect zijn voor het uitvoeren van essentiële taken:
– Ze vormen een sterk geraamte voor onze spieren, de huid, gewrichten, kraakbeen, pezen, aders, etc.
– Als bouwstof om nieuwe cellen te maken (waaronder ook voor de huid)
– Het speelt een belangrijk proces bij de vertering van het voedsel dat we consumeren (we moeten eiwitsoorten produceren die we verteringsenzymen noemen)
– Als afweerstof om bacteriën en virussen te herkennen
– Bepaalde eiwitten die het functioneren van ons lichaam garanderen, noemen we hormonen
– Als energiebron voor ons lijf
– Alle duizenden bouw-, afbraak-, ombouwprocessen die gelijktijdig in ons lichaam plaatsvinden, vereisen eveneens eiwitten (noemen we ook wel enzymen)
Ervaart uw lijf tekorten, dan laat deze geen stofjes over voor uw huid die belangrijk zijn om deze gezond en stevig te houden.
Hoeveel eiwitten heb je per dag nodig?
Dit is afhankelijk van oa leeftijd, gezondheid, gewicht en lichamelijke inspanning.
U kunt uw behoefte uitrekenen door jouw lichaamsgewicht x … gram te doen;
- x 0,8 gram voor niet sporters
- x 1,2 gram voor vegetariers
- x 1,4 gram voor duursporters
- x 1,8 gram voor krachtsporters
- x 1,6 gram voor veganisten
Bron: ekopura
Voor wie?
Vegan Cell Builder is er voor de intensieve sporters die tevens willen willen werken aan hun mooiste huid, hij levert een fijne bijdrage voor tijdens de strengere diëten.
Niet te vergeten: ook is Vegan Cell Builder er uiteraard voor vegetariërs en veganisten die willen werken aan hun mooiste huid én sterkste body.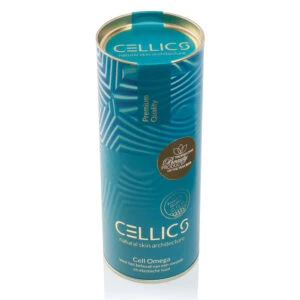 CELL OMEGA
Met het voedsel zoals het nu is krijgen we een overschot aan Omega 6 binnen. En Omega 6 werkt ontstekingsbevorderend en kan zich oa uiten in: vocht-/vetophoping, droge huid/eczeem, acne of andere huidproblematiek (droogte lijntjes/vroegtijdige veroudering), maar ook een slechtere concentratie, vermoeidheid. Omega 3 is om ontstekingen uit te kunnen zetten, en zelfs wanneer we iedere dag vette vis eten krijgen we dit nog niet voldoende binnen.
Daarnaast beïnvloeden de vetzuren EPA en DHA onze gezondheid positief en kunnen bepaalde lichamelijk functies aanzienlijk verbeteren. Zo hebben de vetzuren een positieve stimulans op hart en bloedvaten (cardiovasculair stelsel), ondersteunen deze het immuunsysteem en hebben deze een positieve werking op de hersenen.
Voor de huid dragen de vetzuren op oa het cardiovasculair stelsel bij aan een soepelere, elastische en glanzende huid en een stevige huid barrière, ter bescherming van onderliggende gezonde cellen en weefsels. Een goede huidbarrière vinden wij ontzettend belangrijk, zodat belangrijke processen in de huid niet zo makkelijk aangetast kunnen worden van buitenaf.
Voor de vrouwen is Omega 3 ook erg fijn als hulp bij balans in de hormonen. Omega 3 is een bewezen hulp bij eczeem. Wetenschappers van het Imperial College in Londen beoordeelden meer dan 400 studies waaruit bleek dat visolie het risico op allergie en eczeem bij baby's en kleine kinderen vermindert.
En het draagt bij aan soepele celwanden (deze worden naarmate we ouder worden wat stugger) om voedingsstoffen zo goed mogelijk door te laten.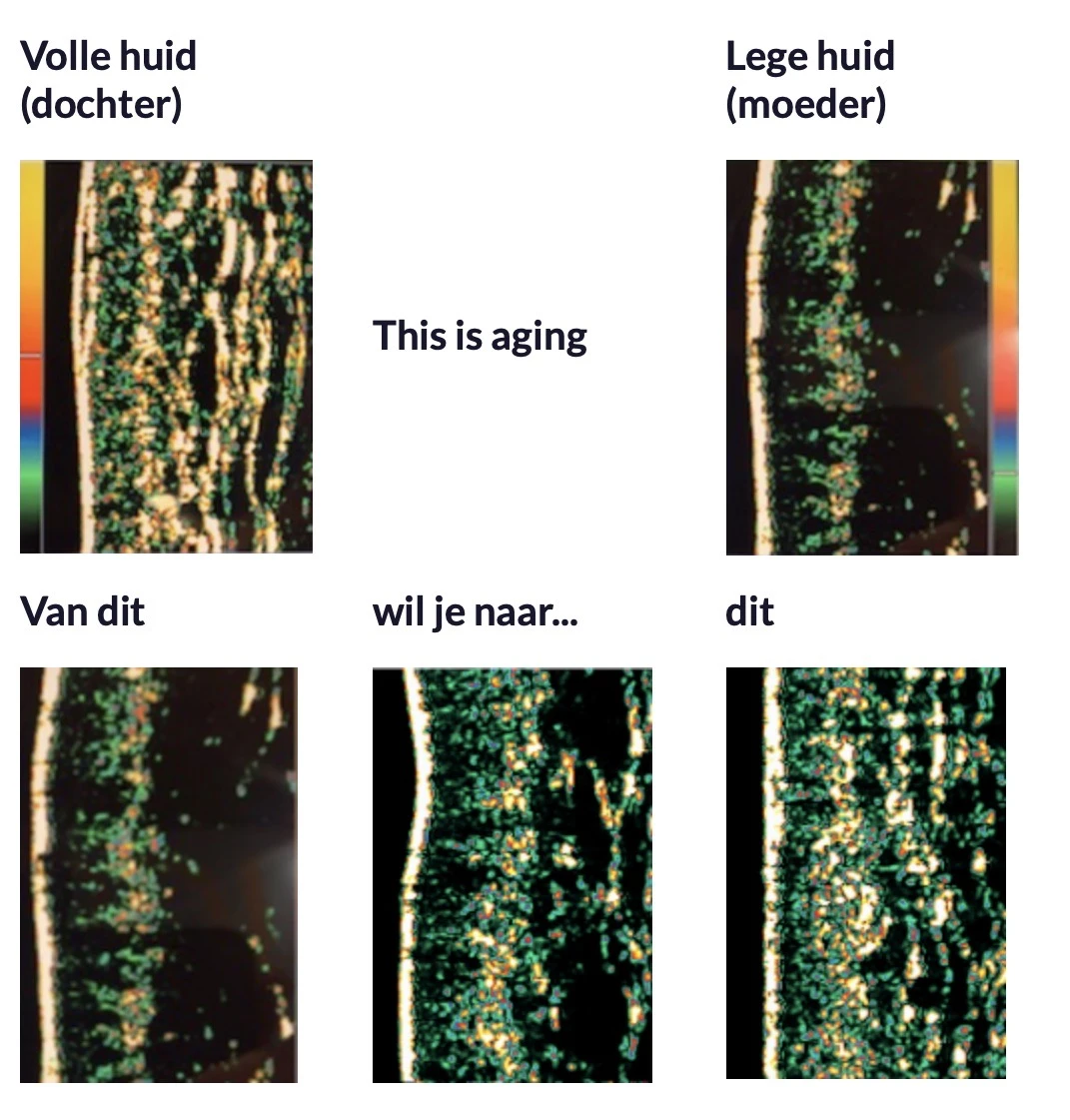 De binnenkant telt!
In de salon hebben we naast de OBSERV huidscan ook onze collageen huid scan. We nemen we een kijkje in uw huid om aan te tonen hoe deze werkt. Wij houden van doeltreffende en meetbare resultaten. Daarom zijn we zo blij dat we kunnen meten met onze high-tech huid analyse apparatuur.
Huidverslapping komt met de jaren. Naarmate we ouder worden neemt ons collageen af. Het minder worden van de aanmaak en de kwaliteit zorgt voor een dunne, droge huid en rimpels. En ook wanneer er zich een huidprobleem voordoet, zul je zien dat de scan een lege huid toont. Dan weten wij dat we eerst tekorten aan moeten vullen of problemen binnenin op moeten lossen, alvorens wij starten met een huidtraject. Om niet meer kapot te maken dan ons lief is in de huid. Zijn de bouwblokken niet aanwezig, dan kunnen we ook niet bouwen.
Met de scan kijken we als een echo in de huid. Een persoonlijke meting voor iedereen. De scan geeft inzicht in dikte van de huid, jouw huidconditie, de ontwikkeling van vorming van de rimpels, mogelijke tekorten en de aanmaak van nieuw collageen.
De meting met de scan vindt plaats voor u met Cellics' skin health nutrition start. Op basis van dit resultaat en de doelstelling van de behandeling wordt het juiste behandelplan voor de huid bepaald. Na een paar maanden voeren wij de scan opnieuw uit om de resultaten in kaart brengen.